---
Our team of experienced nutritionists formulate our rations to complement the forages available locally each season. With a large choice of quality raw materials and specialist feed technologies we have a product to suit all production systems. We can also tailor our blends to specifically meet the requirements of your herd or flock.
A summary of product features are available to view in each category, but for a more comprehensive guide and to discuss what ration would be most suitable for your farm please contact your local ruminant nutrition adviser.
Dairy

Cream Maker
…unlock the potential of your herd
Through a combination of digestible fibre and Bergafat protected fat the Cream Maker range has been designed and proven to specifically promote butterfat, without compromising on yield. High quality proteins, Yea-Sacc yeast and Amaferm digestion enhancer help maximise feed efficiency and milk production, while the inclusion of Herd Care mineral pack ensures optimum herd health & fertility.
Supergold
…powering ahead with your herd
The Supergold range is ideal for use on herds with high production aspirations, or when additional metabolisable protein and energy is required. This high fermentable energy ration includes Maxfat protected fat, Herd Care supplement and Yea-Sacc yeast as standard.
Advance
The Advance range of dairy feeds contains a balanced inclusion of starch and fibre sources, alongside Amaferm, the only EU approved digestibility enhancer. Amaferm enhances forage digestion leading to improvements in feed efficiency and increased milk from forage.
Parlour Cream
The Parlour Cream range balances starch with a combination of digestible fibre and Bergafat protected fat to specifically enhance butterfat levels, without compromising on yield. The inclusion of organic minerals ensures optimum herd health & fertility.
Sovereign
…the jewel in the crown
The Sovereign range is a company stalwart. It's high levels of cereal and quality protein ingredients alongside good levels of digestible fibre ensure it is ideal for feeding at high rates through the milking parlour or is equally suited to complementing a TMR system. The inclusion of organic minerals ensures optimum herd health & fertility.
Heritage
…traditional values, modern results
The Heritage range primarily comprises of traditional ingredients intended to sustain high levels of milk production across a range of systems. The inclusion of quality digestible fibre ingredients makes this an ideal concentrate to complement an array of forages. The inclusion of organic minerals ensures optimum herd health & fertility.
Star
The Star range of dairy feeds are Maize based and designed to complement a variety of forage types. High levels of quality digestible fibre ingredients allow these rations to be safely fed at high levels where required. Available in a range of protein levels, it is an excellent choice for more traditional systems of parlour only feeding.
Pre-Calver
…the foundation for success
The Pre-Calver range has been specifically formulated to meet the many requirements of the dry cow and forms an integral part of United Feeds Pre-Calver Management Programme. It is a market leading product with numerous qualities aimed at ensuring a problem free calving and early lactation. Includes Herd Care, Yea-Sacc yeast, Bio-Mos and LiFT.
Calf
Growing your future
At United Feeds we are acutely aware that the first few months of a young animal's life are critical, because they determine how it may grow, how healthy it can be and how productive it will become over its lifetime. Our range of calf feeds are nutritionally optimised to ensure that alongside good farm management principles our rations will fully meet the demands of each calf's genetic potential. To complement this, we also market a range of high quality calf milk replacers which are tailored to meet our exacting specifications and either meet the Feed for Growth or LifeStart calf rearing principals.
Whether you are rearing replacement heifers for the beef or dairy herd or taking your calves into a beef enterprise we can recommend a nutrition and management plan for you based on sound knowledge of the industry and achievable performance targets. View our Accelerated Heifer Rearing Programme document for an example of such a plan.
Contact your local ruminant nutrition adviser for information on our range of rations to identify which will best suit your farm enterprise.
EMX
EMX is a nutritional control available in products from United Feeds to maintain the normal nutritional balance of a healthy digestive system in the presence of Coccidia or Cryptospordia.
Calf Milk Replacer
For the first few weeks of life milk replacer is the main source of nutrients to the calf and so a consistent feeding regime is key. United Feeds range of Calf Milk Replacers are designed to the highest nutritional specification to meet the needs of every rearing enterprise.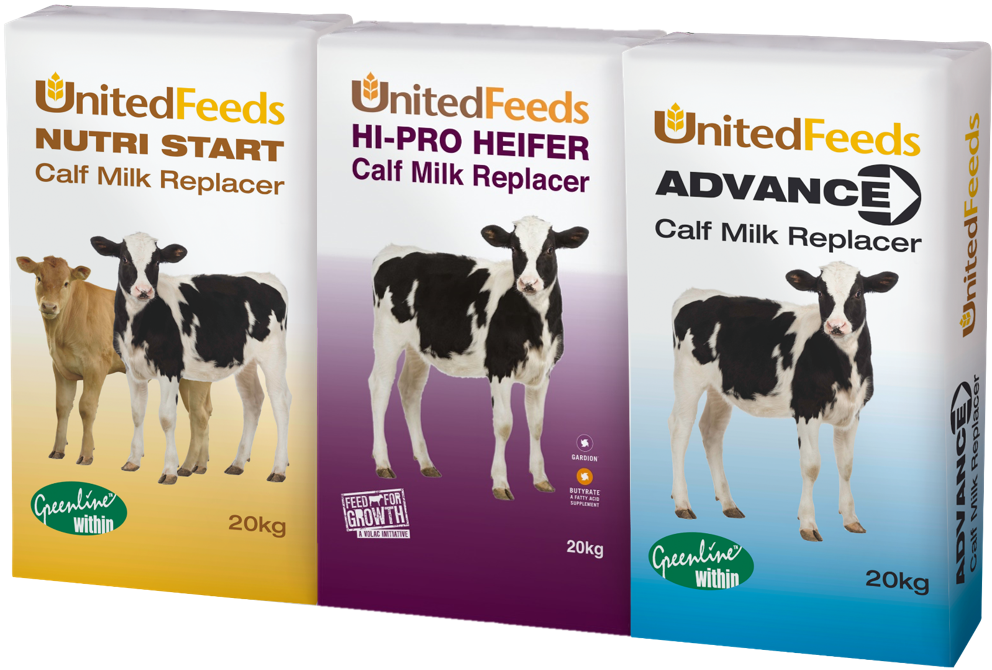 Features
Quality protein sources – optimum amino acid balance matching calf requirements for optimal growth.
High content of coconut oil – a highly digestible energy source for the pre-ruminant calf.
Greenline/Gardion – A calf supplement designed to improve digestion and encourage feeding, as well as stimulating gut wall development and activating natural immunity, with the aim to reduce the incidences of intestinal disorders and optimise growth rates.
Emulsifiers – Designed for easy mixing and anti-foaming.
Flavour linked to our Advance Calf Starter pellets to encourage dry feed intake and stimulate rumen development.
Pulmo+
Respiratory and intestinal health are of the upmost importance to ensure a calf reaches its full potential. It is for this reason that United Feeds now provide the option of purchasing both the Advance and Nutri Start calf milk replacers with Pulmo+ included. Pulmo+ is a combination of essential oils used to maintain the integrity of the respiratory and intestinal tracts.
Respiratory Health – The respiratory system of a calf is very vulnerable, lungs finish developing relatively late in life; only when the calf is 2 years old are the lungs fully mature. As a result, they have very little reserve capacity and need to be protected. Pulmo+ supports breathing and clearing of the airways in a number of ways. It contains essential oils that increase mucus secretion, aiding in the removal of foregin bodies and has a surfactant effect on the surface area of the lungs, decongesting to facilitate easier breathing. Pulmo+ contains a natural form of Vitamin E and organically bound Selenium and provides a specific antibacterial activity, enhancing the calf's immunity through IgA production in the lungs, meaning calves can respond faster to an infection.
Intestinal Health – Calf scour is caused by damage to the intestine from bacteria, viruses or protozoa e.g. Coccidiosis. Intestinal damage can reduce nutrient absorption throughout the lifetime of the animal resulting in lower daily liveweight gain. Pulmo+ disrupts protozoa development e.g. Cryptosporidia & Coccidiosis, reducing intestinal issues leading to less cases of scour and improved nutrient absorption.
Beef
United Feeds have a long and well proven track record in driving nutritional performance in beef animals
Our team of advisers are competent in providing advice on a range of beef rearing and finishing systems.
United Feeds range of growing rations are designed to maximise skeletal growth and muscle development in animals from 12 weeks of age and up to the point of transition to a finisher ration should that be required. Good feed conversion efficiency is essential in beef animals to maximise performance and ultimately improve profitability and our advisers will provide guidance on which rations best suit your system.
United Feeds finishing rations are designed to ensure that alongside good farm management practice the feeds will achieve the highest performance for that individual animals' genetic potential. Good gut health, together with legs, feet and a fully functioning respiratory system are essential to ensure maximum daily liveweight gain is achieved. Our rations are formulated to optimise rumen health with many including Yea-Sacc yeast which promotes the enhanced digestion of the animal's total ration by supporting fibre digestion and the stabilisation of rumen pH. This allows for increased average daily gain, produced in a more efficient manner for more profitable production.
View our Birth to Beef Programme document for examples of various finishing systems and targets.
Contact your local ruminant nutrition adviser for information on our range of rations and to identify which will best suit your farm enterprise, or indeed we are happy to formulate and produce a blend to meet specific herd requirements.
Sheep
United Feeds have a range of rations for feeding to breeding ewes, rams and lambs. These are in pellet, nut or blend form to suit various feeding systems.
Our range of Ewe rations are formulated specifically to provide the essential nutrients to ewes in the final stages of pregnancy, produce rich colostrum and after lambing to produce adequate high quality milk to support her new-borns. In the last six weeks of pregnancy the energy requirement of the ewe almost doubles as 70% of foetal growth happens in this period. This growth of the lamb/s internally greatly reduces the ewe's ability to physically eat as much due to pressure on the stomach, therefore it is essential to increase the energy density of her diet. United Feeds rations can do this through a balance of high-quality starch, protein and fibre sources alongside a superior vitamin & mineral package which includes Selplex, Proviox & Yea-Sacc yeast**.

Our range of feeds for growing lambs are suitable for feeding from day one through creep feeders right up to the point of slaughter should that be the outlet for that lamb. These rations are nutritionally balanced using the best quality raw materials to encourage intakes and give optimal performance right through the various growth stages. Alongside the essential balance of protein, oil and fibre sources to maximise performance and food conversion rate a premium vitamin/mineral pack and ammonium chloride is included as standard in our pelleted feeds to reduce the risk of urinary calculi in male lambs.
Ramgro pellets are a well proven and widely used feed among our pedigree breeders. As the name suggests they are designed specifically to ensure that rams reach their full potential throughout their growing period. Alongside the essential balance of protein, oil and fibre sources, Yea-Sacc yeast is included to maximise performance and food conversion rate. Included as standard in our pelleted feeds is a premium vitamin/mineral pack specifically formulated together with the inclusion of ammonium chloride to reduce the risk of urinary calculi.
Contact your local ruminant nutrition adviser for more information on our sheep feeds and they can provide additional advice on the nutritional needs of your flock.
**specific to some rations only
Blends
We manufacture a range of course and finely ground blends for Dairy, Beef, Calves and Sheep. For each species we have a wide choice of products available however if these do not meet the nutritional requirements of your herd or flock, we can customise and manufacture a blend tailored to your farm.
For more information on our blended rations or to discuss a bespoke blend please contact your ruminant nutrition adviser.
Fertiliser & Silage inoculant
At United Feeds we market a range of fertilisers and silage inoculant as we believe quality forage is the foundation to livestock performance
Fertiliser

SustaiN is a specially formulated protected urea nitrogen fertiliser. AGROTAIN® is a nitrogen stabiliser that reduces nitrogen losses from ammonia volatilisation. This not only increases the use of nitrogen by the plant but ensures nitrogen is available to fuel crop growth all season long.
Reasons to use SustaiN
Economic Benefits – Generally, SustaiN costs less per unit of nitrogen compared to CAN. Saving you money on your nitrogen fertiliser inputs.
Logistical & Time Saving – SustaiN has a high nitrogen concentration with 70% more N than CAN. This means less haulage, storage and less product to spread. Saving you time, fuel & money.
Reliable Agronomic Performance – SustaiN (Agrotain) has been independently trialled by Teagasc and AFBI under local conditions. The trial results show SustaiN yields are consistently as good as CAN, if not slightly better*.
High Nitrogen Use Efficiency – SustaiN has been proven to have a higher Nitrogen Use Efficiency compared to CAN/urea*. This means more of the applied nitrogen is available for plant uptake to fuel grass & crop growth.
Environmentally Stable – SustaiN is stable in the soil and has a lower carbon footprint than other nitrogen fertilisers. SustaiN reduces Ammonia emissions by 84% & Greenhouse Gas emissions by 73%*.
*AFBI trials
SustaiN product range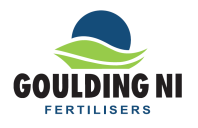 United Feeds market the Gouldings fertiliser range.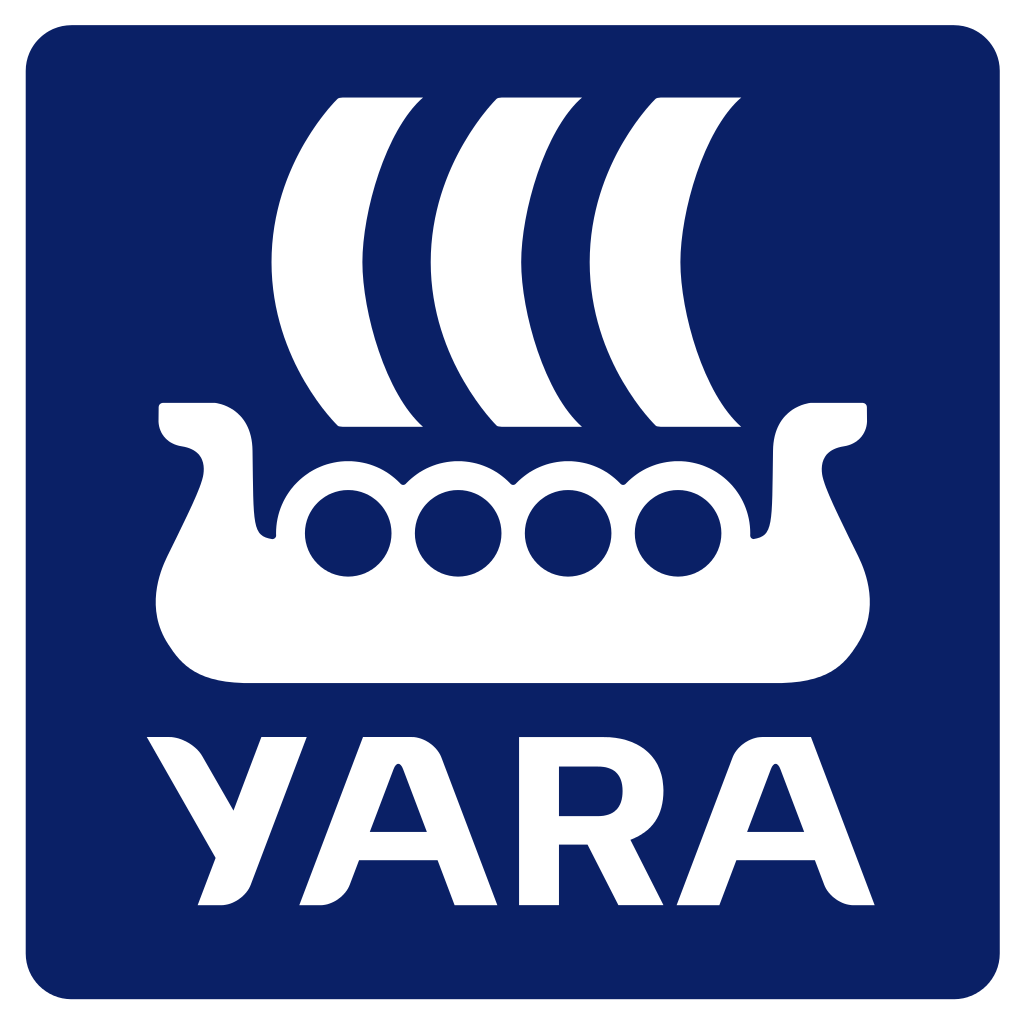 United Feeds market the Yara fertiliser range.

United Feeds market the Grassland Agro range of speciality fertilisers.
Silage Inoculant

At United Feeds we believe strongly that good quality forage is the basis of good performance in ruminant livestock systems. For many years we have marketed the Sil-All range of products and find it to be a very effective additive to enhance forage acidification, aerobic stability and silage digestibility.
---