Father and son team – Victor and Robert Morrison from Ballyroney in Co Down are thoroughly enjoying their new life as dairy farmers. They switched from suckler production in August 2018 and are currently milking 93 Holstein & Fleckvieh with milk being supplied to Dale Farm.
"We are very happy with the performance that we are achieving from the cows at the present time given that two-thirds of the herd calved early last autumn and the remainder calved during March and April. The cows are currently averaging 24L per day with Butterfat at 4.55% and Protein averaging 3.51%." Robert stated.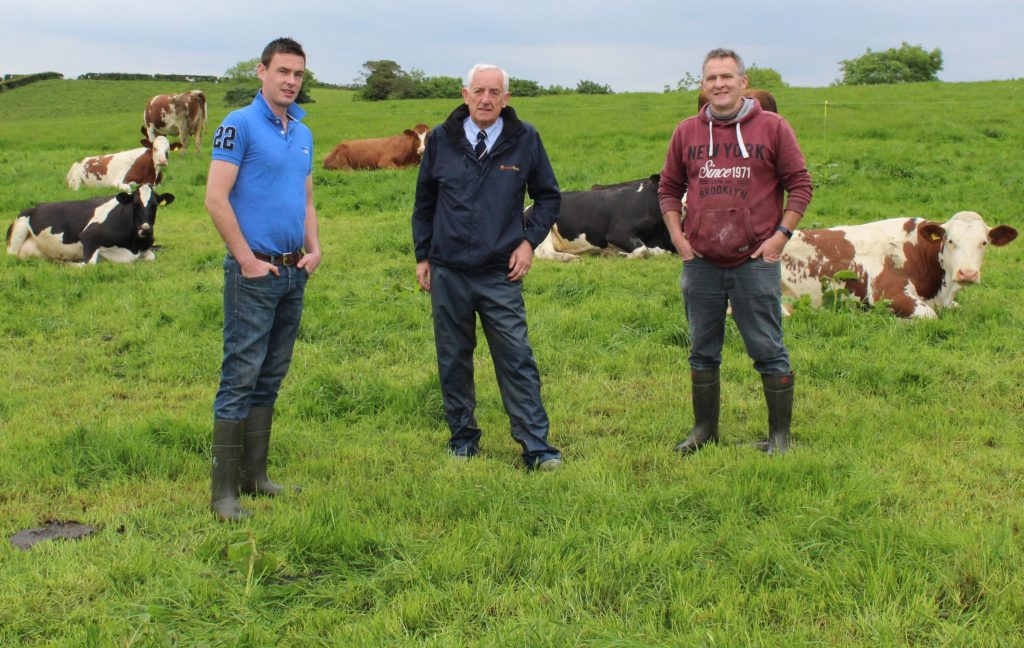 Prior to going into milk, the Morrisons had been managing a herd of 50 suckler cows and followers. So has the lifestyle change been a big challenge for them?
"In my case, no" Robert confirmed.
"I had been working for many years as a postman while we had the suckler cows so getting up early has never been a challenge to me. Going into milk meant giving up that job with the post office but it did offer me the opportunity of spending more time with my family and this is very important for me too."
Victor is quick to point to the monthly milk cheque as being a real driver for the new business. "That makes it a bit easier to talk to the bank manager," he said.
"We both love working with the cows but there is a real cost associated in setting up a new dairying business. In our case, the investment to date has totalled £250,000."
"This figure covers the purchase cost of the cows plus the development of a new cubicle shed for almost 100 head, new silos and milking parlour."
The Morrisons opted for an 8-point, swing-over Dairymaster parlour with in-parlour feeders to give them the flexibility to feed to yield.
United Feeds' John Blakely has been a regular visitor with Victor and Robert since they started milking. He fully recognises the work they have put in over the past number of months and commended them on their focus on achieving high quality milk from healthy well managed cows.
"The effort put in on this farm is delivering a genuine pay-back for them. Their milk quality is excellent and their cows are in tremendous condition" John commented.
"They also have a well thought out business plan, which will help improve the sustainability of the business for the future."
When it comes to meeting the nutritional needs of the herd, Victor and Robert have been feeding United Feeds' Super Cream 18% nuts from the outset. This ration is based on the renowned Cream Maker technology and features good levels of starch coming from maize alongside high levels of undegradable protein and of course Bergafat, which is a rumen protected fat proven to improve milk quality, yield and fertility when used as part of a balanced diet.
"The cows are fed at a rate equivalent to 0.3kgs of concentrate per litre of milk produced and we have been delighted with how well the cows have performed on United Feeds' nutritional advice and rations" Robert said.
"We have found that a combination of the Super Cream nuts and fresh, young grass is putting a lot of high-quality milk into the tank at the present time whilst keeping the cows in great condition."
Maximising milk quality is a priority for the business and since getting into milk they have hit the production and quality bonuses on-offer from Dale Farm each month, not only for milk solids but also in both bactocount and somatic cell count targets.
"The current milk price covers our costs. But the quality bonuses are key to making it all work," concluded Robert.
"We are also committed to getting as much milk from grazed grass as possible," Victor further explained.
"Soil testing and grass re-seeding had been a feature of the suckling business. And we fully intend maintaining this commitment now that we have switched to milk production. We have a grazing block that allows us meet the needs of the herd in full and we plan to make full use of this situation."
The Morrisons take three cuts of silage annually with the first of this year's crops ensiled on 13th May, so with the help of the Sil-All 4×4® inoculant it is treated with it should give every chance to maintain high levels of milk from forage into the winter.
United Feeds wish the Morrison family every success with their new venture and look forward to working with them to develop the business going forward.